Meet Dr. Michelle Cappuccio
My Journey to Chiropractic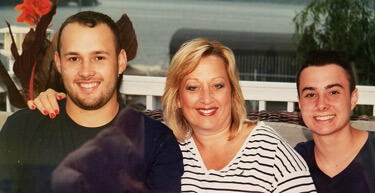 While in college, Dr. Michelle was all set to become a physical therapist. Then, she began having stomach issues. The medical doctors told Dr. Michelle to go on medications and try to cope as best she could. Her sister, who was working for a chiropractor, suggested that she come in for a visit.
The chiropractor helped her problems clear up and changed her life. He explained to Dr. Michelle that the nervous system controlled every function of the body. A subluxation in the area of the nerve that went to the stomach was the cause of her issue. "I remember thinking at that very moment, 'this is fascinating, and I have to learn more about chiropractic!'"
An Education in True Health and Wellness
With a desire to help others in her professional life, Dr. Michelle decided to change her studies. She worked for a chiropractor for a few years, then attended Life University. Her sister also was a student at Life. During their years there, her sister was stricken by seizures that were cleared up with specific chiropractic care. This experience reinforced Dr. Michelle's belief in the life-transforming effects chiropractic can have.
"Chiropractic isn't a job for me. It's a lifestyle." Dr. Michelle loves coming to the office every day. Many of her patients have been with her for decades. She's proud to say that they understand how their body works and where health comes from—the inside.
EXPLORE CHIROPRACTIC »
A Family-Oriented Life
Dr. Michelle is a member of the Garden State Chiropractic Society. In her spare time, she enjoys being with her sons, Ryan and Marcello. They like to play baseball, volleyball and do outdoor activities. Dr. Michelle exercises, meditates and does yoga. It's important for her to find a balance between work and home and handle her stress. Chiropractic is a vital part of her health and life.
Your family deserves to have the best well-being possible. We'd love to help you get there. Contact us today! We have same-day and Saturday appointments available.
---
Dr. Michelle Cappuccio | (732) 388-2619